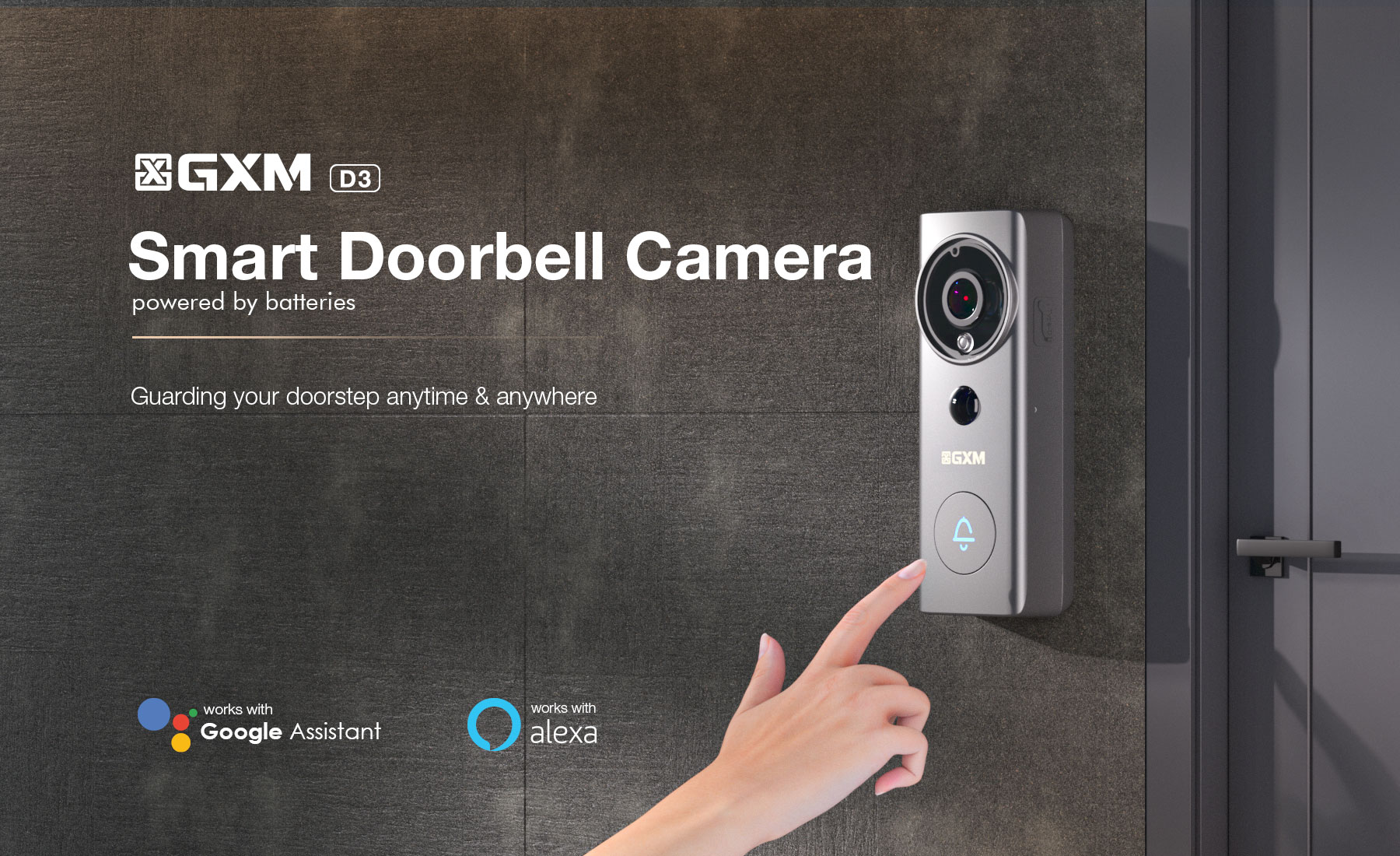 ⭐️ GXM Smart Doorbell Camera D3
Long gone are the days of finding your parcel or food delivery missing.
The GXM D3 Video Doorbell shall act as a deterrence and record any misdeeds that occur.
Equipped with MOTION DETECTION, it will send a notification to the user's smartphone once triggered.
High-definition 2KUHD 2304x1296 resolution video recording capabilities, allowing homeowners to monitor and capture clear footage of their doorstep.
PRODUCT HIGHLIGHTS
🔶【Two-way Audio Communication】 Communicate with visitors / couriers remotely. Providing a safe method of interaction.
🔶【Voice Changer】 Alter the voice from female to male, vice versa. A safety precaution when at home.
🔶【Motion Detection】 Real-time alerts are sent to user's smartphone. Responding promptly with visitors or unwanted guests.
🔶【Pre-recorded Messages】 Reply with a simple tap on the chosen pre-recorded voice message.
🔶【Multiple Security Protection】 Tamper alarm / Cloud recording / Exclusive binding with a unique account.
🔶【Easy Installation】 Install doorbell with provided 3M sticker plate or screws.
🔶【Indoor Chime】 A variety of ringtones to choose from.
🔶【IP66 Waterproof】 Suitable for outdoor weather conditions.
🔶【120 Days Battery Life】 Say goodbye to interruptions and focus on what matters most – the security of your home.
⭐️【Multiple Camera Monitoring】 Keep a watchful eye on up to 16 feeds simultaneously via Laptop / Tablet / Smartphone
PRODUCT SPECIFICATION
- Product Name: GXM D3 Video Doorbell Camera
- Dimension: 50mm(w) x 140mm(h) x 35mm(d)
- Resolution: 2KUHD (2304 x 1296)
- Field of View: 140° Horizontal
- Connectivity: 2.4GHz
- Audio: Two-way Communication
- Storage: Cloud / TF Card
- Battery: 5200mAh (Rechargeable lithium battery, Up to 120 days)
- Weight: 228g
- Color: Space Grey
PACKAGING CONTENTS
- 1x Video Doorbell Camera
- 1x Base Station
- 1x 0.5m Cable
- 1x Screw Kits & Screwdriver
- 1x Manual (English)
- 1x Extension Wires & Wire Nuts
【Common Q&A】
Q1) Does it require WIFI?
A1) Yes, it requires 2.4GHz WIFI. 5Ghz WIFI / Mobile data is not compatible.